Kindness Springs From the Heart
"It's nice to be nice to the nice."  That was a Frank Burns line from an episode of  M*A*S*H long ago.  Being nice is good, but it's more a matter of civility.  Kindness, on the other hand, is a matter of the heart.
Kindness has an element of compassion and empathy.  Kindness is meant to make someone else happy, ease their burden, allow them to see themselves in a better light.  Kindness is honest, heartfelt, and given freely.
Kindness comes from a place in the heart that feels a strong kinship with humanity, that can see life from someone else's shoes.  Kindness comes from a place of love.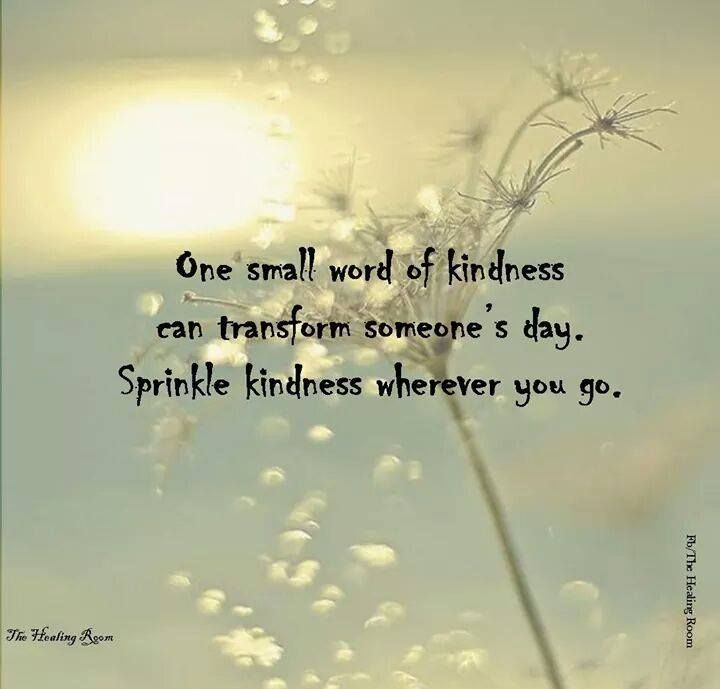 Sometimes I get up early on a Sunday morning to go grocery shopping.  When I walk from my car to the store and the sun is shining (or even if it's raining), this is when I feel most myself.  In that moment I feel alive and free.  I'm sure that sounds a little cooky, but anything troubling that's on my mind goes away.  It's just me and the sky and the fresh air and the sunshine and I feel like a child of God and everyone I come across is a long lost brother or sister.  I smile and greet each person I come across and it feels wonderful.  Sometimes people ignore me, but more often they smile a smile from the heart and greet me back.  I love that!
When you feel most yourself, kindness is a natural.  When you're out of sorts with yourself, it's a bit more difficult.  Those are the times someone reminds you, "Be nice."  Being nice can get you through the day, but being kind can make you humble, grateful, and appreciative of life.
Last week, I took my husband to the doctor.  A nurse came into the waiting room and called my husband's name.  We followed her back to an exam room where she checked his medication information and blood pressure.  I noticed she had really beautiful hair.  It was jet black and hung in beautiful curls down her back.
When I think something good about someone, I like to tell them, so before she left, I told her what beautiful hair she had.  She smiled a big smile and said, "Thanks.  That's my new hair."  I'm sure she could tell by the look on my face that I had no idea what she was talking about.  "I had cancer," she said.  "This is my new hair."
I was blown away.  What had she been through for that beautiful hair?  I can only imagine.  That humbled me.  That made me appreciate what I have so much more.  I hope it made her feel like "I'm still here and I'm better than ever!"
We passed her in the hall as we left the office.  We said goodbye and she answered in kind, with a big grin and a wave.  She made our day.
Share in the comments:  what role does kindness play in your life?
About carol
Hi there, I'm Carol. I look for the beauty in everyday people and the everyday world that surrounds me. I'm a writer, a fair photographer, and I'm also a wannabe artist. I wear many other labels, but I try not to let them define me. What about you? I'd love to hear about your story!