Alteration, Modification, Transformation. Change.
What does change mean to you?  Does it make you cringe or jump for joy?  For me, it depends on the reason for the change and who initiated it.  If it was my idea, I've had time to think about it (or agonize over it) and decide it's the right thing to do.  That's not so bad.  But changes that hit you by surprise, change that you should have a say in but you don't get one, or change just for the sake of change (hey, everyone else is doing it.  Why not us?) can be a total annoyance.  Some changes you can prepare for, like moving to a new apartment or even to a new city.  Going back to school.  Getting married.  Becoming a vegetarian.  Some you can't, like losing a job, breaking a leg, or winning the lottery.
Surprise-changes come hard to me.  I need time to mull it over, find the advantage, picture it in my mind.  We made a new bathroom in our house two years ago out of the "everyone bathroom" in the hall, the small half bath off our room, and the closet in our room.  I had mapped out the space well in advance and decided how I wanted it arranged.  I drew a layout of what I wanted and my husband and I picked out colors for the walls, the counter top for the vanity, the fabric for the curtain, the flooring.  We called our contractor.  We bought new towels in a fresh new color.
The new bathroom had many advantages over the old ones.  Two sinks.  A shower that was easy for my husband to get in and out of with a nice, big seat inside.  A door from our bedroom and one from the hall.  Lots more storage.  By the time it was finished, I was already used to it in my head.  It was an easy transition.  It was a great change and I was prepared for it.  It didn't take any time to feel like it had always been there.  That's my kind of change.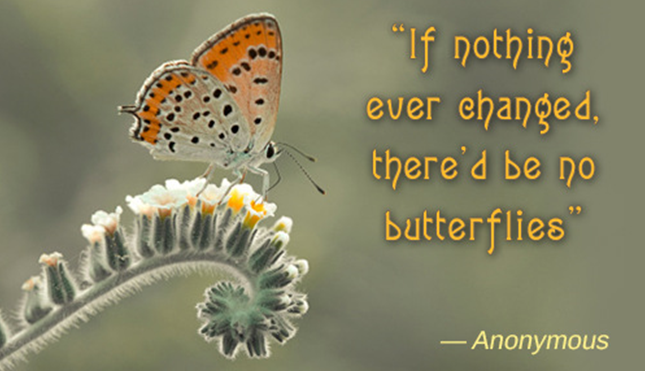 If you plant a flower seed, it doesn't remain a seed.  It grows and it changes to a small sprout with a couple leaves.  Then it grows and changes some more, this time it's stem is stronger and its new leaves are characteristic of the type of plant it is.  Soon, it grows and changes some more with a longer, sturdier stem and more leaves and some flower buds that will-guess what?-turn into beautiful flowers when they grow and change a bit more.
I see a pattern here.  With change comes growth and strength. With growth and strength come possibilities of of blooming into something more beautiful than you ever thought possible.  Change is the order of the day in the natural world.  Flowers bloom, they seed out and go back to the earth.  Seasons come and go.  Days get longer, days get shorter.  When you go through a life-changing experience, ask yourself how the experience can help you grow.  In these changing times, being able to adapt to new or changing situations can be a huge benefit, especially to your sanity. 
Every day is a new day.  No two days are exactly alike.  I've racked up 22,308 days of life so far.  One of those days I got married.  One of those days, I got chicken pox.  One of those days, one of my sons had surgery.   Two of those days, I found out I was pregnant.  One of those two days was a total surprise.    Each new day I am older than the day before.  We are born, we grow from an infant to a toddler.  We grow into early childhood, and on into adolescence.  Teenager.  Adult.  Middle age.  Old age.  We change every day and it's a good thing.  Of course, not all changes are good. A negative change in our health isn't good, but there is usually something to be learned in the healing.
When changes come your way, look for the advantages before you decide it's not a good idea.  See what can come of it: strength, flexibility, new possibilities.  If you don't like it or you just think it won't work for you, use your creativity to come up with a better solution.   Change is inevitable.  Life is all about it.  Change, growth, flexibility.  If the seed doesn't change, it ceases to exist.  Life is alteration, modification, transformation.  Life is change.  Let's embrace it!
What kind of changes do you enjoy?  Are you slow to adapt, or do you dive right in?  Share with us in the comments below.
I will not be posting again until January 4th, 2018 as I'm taking time off to spend with my family during this Holiday Season.  I wish you all happiness, love, joy and figgy pudding! 
About carol
Hi there, I'm Carol. I look for the beauty in everyday people and the everyday world that surrounds me. I'm a writer, a fair photographer, and I'm also a wannabe artist. I wear many other labels, but I try not to let them define me. What about you? I'd love to hear about your story!